Making a difference in the Napa Valley.
At Community Action of Napa Valley we believe that no one in our community should live in poverty. Every day we offer local people emergency assistance along with tools and skills to rebuild their lives and fully participate in this amazing community.
How did we begin?
In 1964, President Lyndon Johnson signed into law the Economic Opportunity Act to "eliminate the paradox of poverty in the midst of plenty in this nation by opening to everyone the opportunity for education and training, the opportunity to work, and the opportunity to live in decency and dignity."
In Napa, local community leaders, governments, the faith community, schools and low-income people came together to create a vehicle for these new funds to come into Napa. In May of 1965 Napa County Council for Economic Opportunity – now known as Community Action of Napa Valley was granted non-profit status. Head Start was one of CANV's first programs, quickly followed by Clinic Ole and Legal Aide. The Hispanic Network got its start under the CANV umbrella as did Napa's first program to offer services to domestic violence survivors along with the Area Agency on Aging.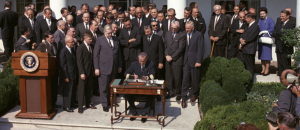 Today
Community Action stays true to its mission by continuing provide basic needs – food and shelter – along with other programs to support people as they become self-sufficient members of our vibrant community.
We believe in partnership and are founding members of the Coalition of Non-Profit Organizations. We are active with many local initiatives and work groups including the Continuum of Care; Live Healthy Napa Valley; Area Agency on Aging; the Workforce Investment Board, and more to improve the quality of life for people throughout the Napa Valley.
The Future
Just as Poverty continues to re-invent itself, Community Action of Napa Valley will evolve and change to meet new challenges. As we did when homelessness emerged in the early 1980's , we will work with our entire community to identify new causes of poverty,  isolation, and neglect and identify solutions and implement proven strategies to meet new challenges. There are times when we will take the lead and times when we will support others in our partnership. Working together  is what we do best.
COMMUNITY ACTION OF NAPA VALLEY IS A 501(c)(3) NONPROFIT ORGANIZATION. ANY CONTRIBUTION IS TAX-DEDUCTIBLE TO THE EXTENT ALLOWED BY LAW.
OUR TAX ID NUMBER IS 94-1610851.
168000
Meals Delivered (Per Year)
81600
Household Fed (Per Year)
90
Children Taught (Year Around)